Remembering Queen Elizabeth II - 1926-2022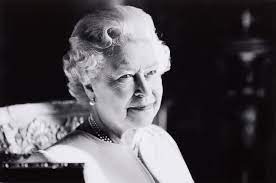 As this year draws to a close, I would like to take a moment once again to remember Her Late Majesty Queen
Elizabeth, who we lost this year, and to pay tribute to her life as the Princess of Wales did in the recorded
intoduction to her Christmas carol service. Her Late Majesty was an inspiration to us all, and even
almost four months after her passing, I still miss her, as do many others. I would also like to pay tribute
to The King, and send him and The Queen my warmest good wishes for their new reign. I also thought that
The King's Christmas speech was absolutely lovely. I hope that the Coronation in the new year will go well,
and hope to see visits by The King and Queen to all the realms soon. By the way, this may be my last update
this site--I am unsure--but it shall always stay up as a memorial to our late Queen Elizabeth. May God rest
her soul and may God save the King. See my previous updates here.
This Web site is dedicated to the memory of Her Late Majesty Elizabeth II, Queen of the United Kingdom,
Canada, Australia, Papua New Guinea, New Zealand, Jamaica, the Solomon Islands, the Bahamas, Belize,
Saint Lucia, Grenada, Saint Vincent and the Grenadines, Antigua and Barbuda, Saint Kitts and Nevis,
and Tuvalu. She was beloved by so many in her realms, and indeed all over the world.
Her Majesty led a life dedicated to serving her peoples all over the globe, which she famously
affirmed in her 1947 speech with these immortal words: "I declare before you all that my whole
life, whether it be long or short, shall be devoted to your service." She then served as an
inspiration and a symbol of unity to so very many people throughout her long life, and I know
that so many others have been inspired by her work to be a better, kinder person.
Her Majesty was also patron of over five hundred different charities and organizations, and not only did
she provide them with the vital publicity needed for these organizations to do their good work, she
also spent so much of her time throughout her life serving these organizations: representing them
at events, attending and presiding over events, and regularly meeting with the staff of these
organizations. Even during lockdown, Her Majesty the Queen made sure to keep in touch with her
patronages, regularly video-calling each organization of which she was patron.
One also cannot forget Her Majesty's famously mischevious sense of humour, which elicited many laughs
the world over. One of my personal favourite anecdotes about her was the time when she was walking
on her Balmoral estate, and came across an American tourist. As she liked to do to those she
met whilst taking her walks, she stopped to say hello. She exchanged a few pleasantries with the
American man, and after she mentioned her age (about 80 at the time), the man asked if, in her
long life, she had ever met the Queen. She pointed at the protection officer accompanying her,
and said "No, but he has." The tourist then proceeded to give the Queen his camera and ask her
to take his picture with the officer, and she obliged, never revealing her true identity.
The Queen was beloved throughout her lifetime, and her uninflated approval rating averaged around
80% for most of her reign, peaking sometimes at 90%! In the days since her passing, we have seen many
lovely tributes, from young and old alike. David Beckham, who waited for twelve hours to see the
Queen lying in state, said that "[today is] a sad day but a day to remember the incredible legacy
she left." How true. One of my personal favourite tributes is here - a poem written by a young
student in the UK, which genuinely made me cry. And of course, there have been so many more
that I cannot fit on this page. I will continue to add some more of my favourites in the coming
days and weeks.
Her Majesty the Queen was, despite some people's hatred, an amazing person, and the world has lost a truly
lovely woman. May Queen Elizabeth II rest in peace, and may her life continue to inspire us all forever.
Read and sign our book of condolences here.
This site last updated December 31, 2022. God save The King.